Since the old thread was lost, I'm starting this new one for the ID cards. I created a template for the RPD S.T.A.R.S. members ID cards as seen in the character slection screen of the Gamecube REmake, and one for the movie version of the Umbrella Corp. ID seen in the first movie. I can customize these templates with a headshot, name and 4 digit ID #. They are foldover designs that have the Miranda Rights on the back of the S.T.A.R.S. ID, for those times when the undead are are resisting arrest. Remember, read them their rights, then put the shotgun to their head, not the other way around. Here are the examples: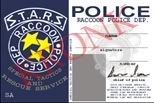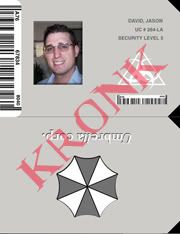 Send headshots and info to dahveeds@yahoo.com. After customizing the card, I email it back to you and you follow these 4 easy steps:
1. Print on color printer, preferably on glossy card stock or photo paper. Heavy bonded paper also works if you can't find card stock.
2. Sign on the signature line (S.T.A.R.S. only).
3. Fold at the center line, cut off the black corners on the Umbrella card, and laminate for that professional look.
4. Present to any undead, Tyrants, BOWs, Umbrella personnel, or RPD officers as proof you are there to ruin their day.
Best of all, they're free! No Resident Evil costumer should be without one!